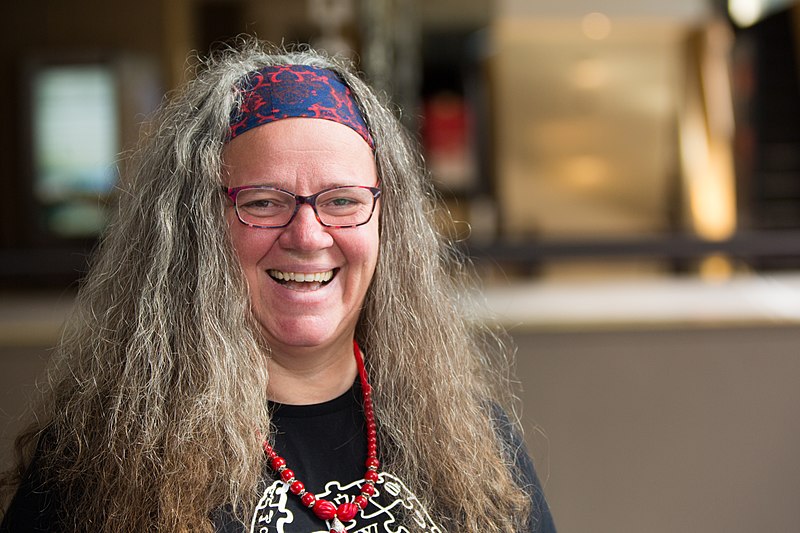 You know this big smile and this great person behind it – Christel! A great friend and really amazing wikipedian, Christel is member of the Trust and safety team and Volunteer editor from Germany. Here is a short story of her love with the Wiki-community and contributions.
Wikipedia and you – tell us more about this long lasting love 🙂
Wikipedia and me – this was a love that started slowly and took several meetings in which I first mostly ignored her. But when I started to really look, I was fascinated. The diversity of topics and the many ways in which I could engage drew me to the website. I could learn something here every day! First only online on the German Wikipedia, then, pretty soon also offline with the Munich, then the German community. And then in 2016 I went to the Wikimania in Esino Lario, because it was not so far away and I did not have to fly to get there. Since the day I arrived there it is a true love story, the scope of the Wikimedia movement and the many wonderful, smart, gifted people driving it make me fall in love all over again and again.
What is your role in the Wiki movement now?
By now I have two roles in the movement. I am a volunteer editor who
loves to write short articles for the German Wikipedia and to upload
pictures to commons and to take part in world wide events and
edit-a-thons. And I am a staff member of the Wikimedia Foundation, a
Trust and Safety Specialist.
Wikimedian community is lange, colourful, inclusive. How this culture is spread? How it grows? How it is protected?
It is a bit of a secret how this wonderful community grows. Many people report initiatives that try to make it grow in certain ways, to try and make it spread to certain places, but they also often report failure. And yet we grow and prosper. More research needs to be done on this! As to the protection – this is partly what my team tries to help with. We deal with the most serious threats to individuals on the platforms, but also support the volunteers to protect themselves.
What is the role of the Wikimedian movement in the everyday life of people let's say in India, Ghana or Canada? How Wikimedia, not just like open knowledge, but as movement changes peoples' life?
I am also not sure about the role of the Wikimedia movement in
everyday life of people in other countries, or even in my own
countries. For me, there are morning and evening slots where I do my
volunteer editing or just look at what amazing things other volunteers
have done recently. And when I chat with my friends all over the world who are amazing Wikimedians. And well, during the workday, it is very much part of all I do, of course!
Which is your favourite part of the Wiki world / projects / work?
I do not really have a favourite project. I am again and again
fascinated by the many facettes this movement has.
Your greeting to all the Wiki and non-Wiki people who will read this interview?
Sending Wikilove to all people who read this,. Stay curious, keep your
good faith and critical thinking and share your knowledge freely!