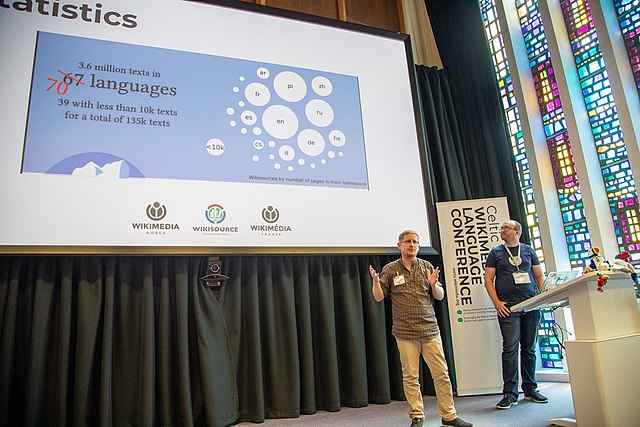 How Nicolas became wikipedian?
Wow, I started back in 2004. I don't recall exactly what motivated me to start. I remember the amazing feeling to be able to write articles with other people as a team. I don't know everything but together we can cover a vast array of knowledge. Some know what to write, some know how to format the text and how to illustrate, and so on; in the end we produce something better than what anyone would have done alone. Everyone bring a little drop but together we make an ocean!
This is really exciting and also addictive. 16 year later, I still enjoy it a lot, even more maybe.
Now you do much more Wikidata – tell us about this "love" a bit more 🙂
I do love Wikidata. This is a fantastic project, the multilingual aspect and the pure logic of data are very appealing to me. You can focus on the essence of information and then make things around it.
Wikidata is multilingual, you have the power of a wiki but multiplied by 400+ languages!
There is also a lot of tools to help edition and correction of Wikidata data. With the query service in SPARQL, you can make lists or check the quality of the data to locate the area to improve. With OpenRefine you can import in batch data from external sources to create new items or improve existing one.
I work on a lot of different data but especially around data about monuments and heritage sites, it's very important to have a dataset complete and updated. It's useful for Wikipedia articles and also for Wiki Loves Monuments, the annual international photographic competition to take pictures of monuments each September.
Your favorite Wiki projects and the once you are involved most?
Wikisource is my favourite Wikimedia projects. I mostly transcribe texts but there is also curation, organisation of books around a same subject to ease the reader navigation. Transcription is turning an image into a text, it is very important as text offer many opportunities, it makes the document easier to read, to search (with ctrl+f or with more elaborate text mining tool), to make it more discoverable for external search engine or to export and transfer to other devices (mobile phone, tablet and e-reader).
Already million of books has been transcribed, enough to read for a long time and for every taste.
Wikisource has also a very special pace and ambiance. It's more quiet, almost zen; after doing mind-consuming tasks on Wikipedia I love come to "relax" on Wikisource.
Not a Wikimedia project but I also love the "#100wikidays" is a personal challenge. The goal is to create an article each and every day. I finished it 2 times already and I'm currently doing it for the third time. I do translation from English to French of articles about Irish Women (doing my part to close the gender gap) with the help of Rebecca O'Neill, who is also doing the #100wikidays on the same article but in English a few days earlier. Again, a good example of how people can work together. My objective this year is to more than 100 days, maybe 1000 days, who knows?
What is special about French community among the wikipedians?
The french-speaking community is quite diverse, French is spoken all around the globe. The Wikimedian French community is strong and mostly nice. Like everywhere, there is troll and less kind people but I think that overall this is a good and friendly community. Some people can be stubborn and at first say "no" to new things or tools but even if the community resist a bit at first, on the long run, a lot of new tools are adopted. For instance, it took time but now Wikidata is strongly interconnected to the French Wikipedia or Wikisource and it's a win-win.
Your invite for the people who still do not contribute?
Just try it yourself! You don't have to start big or to commit to edit every day, every little bit is welcome. There is so much to do on Wikimedia projects I'm sure you'll find something you will enjoy.
And don't forget to have fun, Wiki is serious but also seriously fun 😉