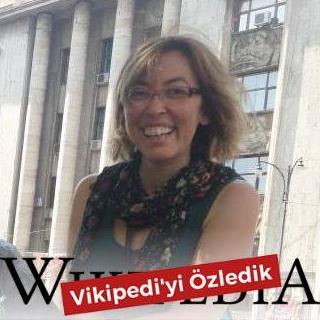 How did you become a Wikimedian, tell us your story?
I became a wikimedian back in 2005. I remember receiving an e-mail inviting people to edit Turkish wikipedia from an email group i was subscribred. At that time i was blogging and contributing to several web sites about travel, books, etc. as a hobby. When i've learned that i could edit wikipedia as well, i got excited i knew that i would enjoy it very much even before trying to edit. At the begining i was editing only for fun. I liked writing about fictional characters, cartoons. I thought editing more "serious" articles related to science, history, politics would be made by some experts. But soon i recognised that there were very few contributors therefore i could make an important change by editing articles on any subject i am interested in even though i may not be an expert on it. I started to take editing more and more seriously. I didn't know any other Wikimedian in person until i was invited to a wikicamp in Skopje in 2015 as a prize for contributing. There, i've met Wikimedians from different countries and learned more about Wikimedia Foundation and affiliates. When i am back, i shared my experience at Village Pump and soon i found my self as one of the founder members of the user group in Turkey. I very much like coming together with Wikimedians around the world at regional and international events, becoming a bridge between my local community and the rest of the Wikimedia Movement. Now, i am member of two other international user groups and also am member of Affiliations Commitee.
Your most liked Wiki projects you work for?
Turkish wikipedia! I like editing in my native language. I belive Turkish wikipedia is still far behind where it should be in terms of number and quality of articles and i can feel my edits could make an important change. I also very much like contributing to Commons with images that could be useful in the articles i edited.
You had this hard time with Wikipedia in Turkey. Now it is over. Some lessons learned and how do you feel now about it?
Yes, Wikipedia was blocked in Turkey between April 29, 2017 and January 15, 2020. Internet-savy people were able to circumvent the block by using technologies like VPN. I am so proud that our editor community never stopped editing Wikipedia and our user group kept organising events during those years. However, the small edits of the passersbys were gone and we understood the value of those edits better. Most of the community members contribute to the projects because they see it a good way of passing their leisure time; but i think all of us understood better how valuable what we are doing for the society and started see our contributions not just as a leisure time activity but as an important volunteer work. Therefore we thought that rather than being an informal community we should be organized better and after the removal of the block we got a non-profit status.
So where is the Turkish Wiki community now and how do you develop it?
Turkish wiki community is more vibrant than ever.The community is now communicating more at off-wiki channels such as Telegram in order to ask help about translating a sentence, editing a template; we find this useful for collobration. Regular online meetings are being held every two weeks; experienced wikipedians and new comers come together to ask questions, share their suggestions about projects, events, we make presentations to each other to develop skills. Actually There a lot of things are going on at the same moment. We had Wiki Loves Earth Turkey for the first time this year. There was unexpectedly big participation. We expected around 500 photos to be uploaded in a month but we received 3500 photos. We thought of this as a big welcome to Wikipedia by the readers.
We organise edit-a-thons with our partners, such as Jazz-Day Edit-a-thon with Istanbul Jazz Festival or Female Filmmakers Edit-a-thon with Filmmor Women's Cooperative.
Visiting university courses to invite students to contribute and give trainings is the most important actvity of the user group. We continue visiting courses by video-conferences; we plan reaching much more students in the new school term. We do all this to help the community grow not only in terms of number of the members but also to increase the diversity of the community members.
How Wikipedia helps, works for people in countries like yours?
Turkey is a country where internet penetration is high and people use online sources as their first and maybe the main source information. However, Turkey's infosphere is exposed to great information pollution. In such environment, Wikipedia can not be a gatekeeper of false information but at least give internet-savy people some power on factual knowledge creation or sharing.
Your greeting to the Wikipedians and friends who read this interview?
Dear friends, i am so proud to be a member of such community and i am looking forward to be able to come together with you at a in-person event.