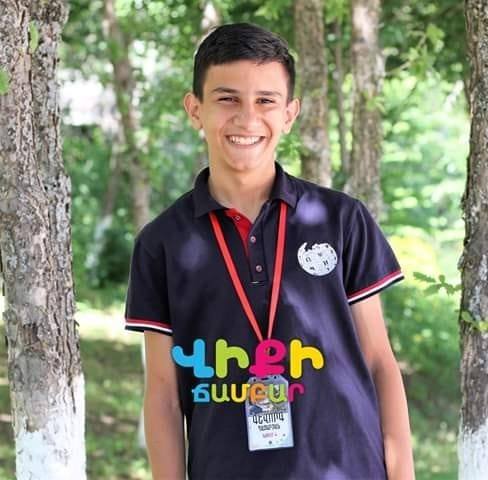 Tell us a bit more about yourself 🙂
I am Gevorg Ghazaryan. I am a 14 years old student from Armenia. My hometown is Artashat, which is one of the capitals of the ancient Armenian Kingdom. My favorite school subject is geography. It is also one of my hobbies. Last year I participated in the Geography Scholar Olympiad and almost got to the international stage. I love soccer, and when I have spare time, we gather together with friends and play. But most of the time, I usually study or edit Wikipedia.
How your Wikipedian journey started?
I started editing Wikipedia when I was13 years old. After transferring to the new school, I found out about Wikipedia and the local Wikiclub. I always thought that the ones who wrote articles in Wikipedia were smart robots. I could never imagine that all articles were written by volunteers who invested their time and knowledge to make information free for others. I made my first edit on February 27 of 2018. Since that day, my life has completely changed. I edit Wikipedia every day and work hard to get better and better.
You made #100Wikidays and now you run #1000Wikidays – tell us a bit more about this challenges
Editing was never a tedious activity for me. Even so, I like challenges. When I learned about 100wikidays challenge and its community, I was amazed by how people were willing to dedicate their precious time and effort to develop Wikipedia. That blew my mind, and I decided that I wanted to try it. However, I failed the first attempt due to enormous pressure. At that time, I was not ready for it.
Nevertheless, I never gave up, and after a small break, I posted about my second attempt. All articles were about basketball players. After 100 days, I made a facebook post and announced about completing the challenge. I got motivated and did it again. My second challenge was dedicated to Bosnia and Herzegovina, and during those 100 days, I made 300 articles. Right after Bosnia, I started the third challenge and wrote approximately 350 articles about Bulgaria. Now I am doing 1000wikidays challenge and working hard to finish it.
What motivates you?
When I started editing, it wasn't easy for me. I struggled with vocabulary, grammar, and also with technical issues. I got blocked 3 times for making low-quality articles. However, I did not give up and started working even harder to prove that I was capable of doing and achieving greater things. I wanted to convince everyone that 13 years old kid could succeed. After putting colossal effort and spending a considerable amount of time, my articles got better and better. Also, the fact that my articles can help and teach someone makes me super motivated to edit more and more.
What are your plans for the future?
I have many plans and goals for 2020, and most of them are related to Wikimedia Armenia. Our team and I are trying to motivate more people to edit our encyclopedia. We are planning to organize events and workshops to encourage new editors. We are currently working on the "Armenian History" project and discussing new ones. I also want to learn more about Wikisource and Wikidata. My ultimate goal is to finish the 1000wikidays challenge and improve the quality of the articles.
Read also: